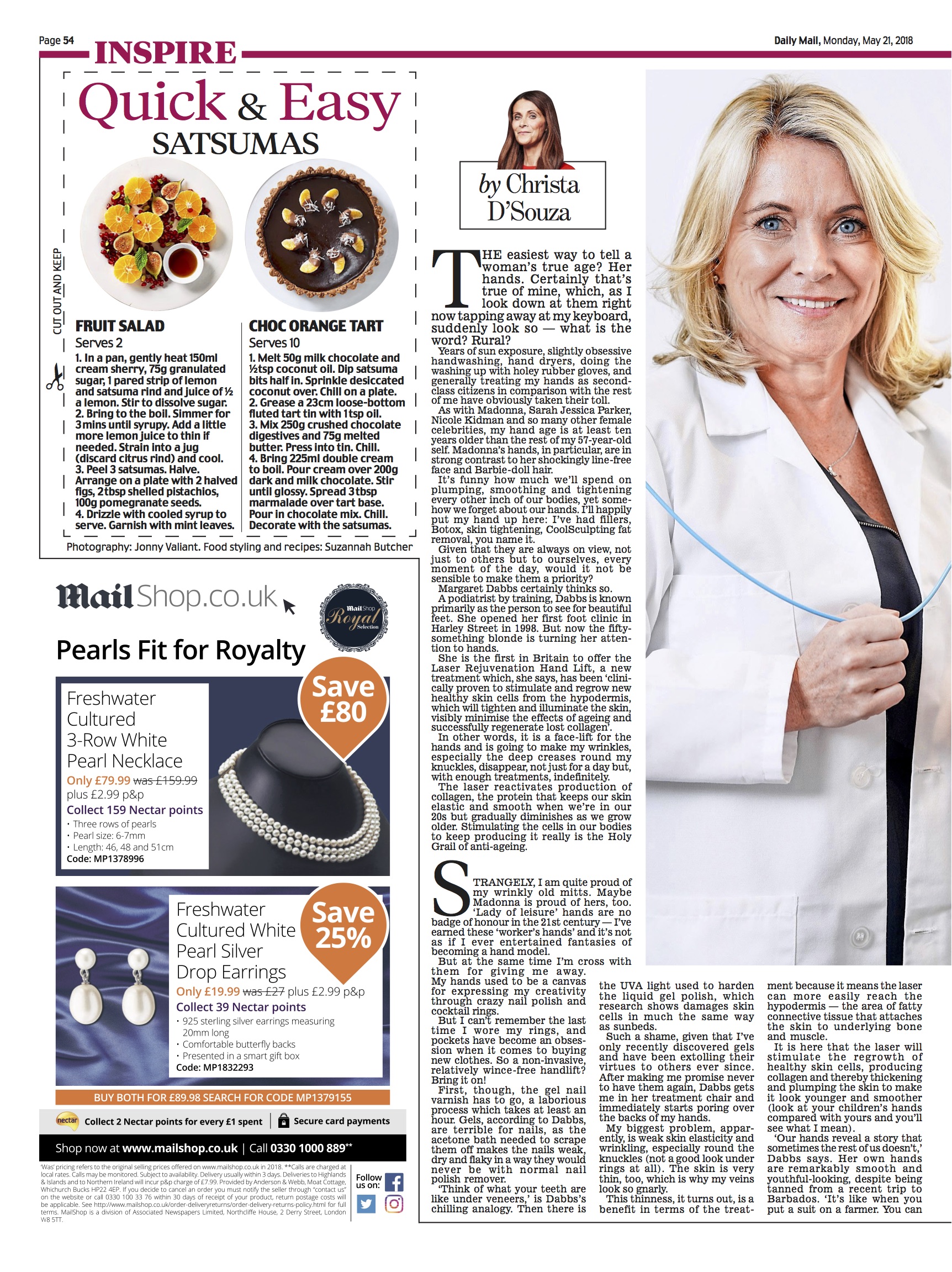 Overall Objective
To launch an unknown Podiatrist with excellent credentials and her debut footcare, hand care, leg care collections, fusing beauty with medical, into the UK market

To grow the Margaret Dabbs London brand into a global health and beauty brand
How this was achieved
By inviting key national media, broadcast media and influencers in to experience Margaret Dabbs London's world famous Medi Pedi treatment within one of the brand's UK clinics and review their award winning products

By entering Margaret Dabbs London products into prestigious wellbeing and beauty awards.

Through a series of targeted brand partnerships with wellbeing institutions that are complimentary, non-competitive and speak to the same affluent professional customer, who has disposable income and is time poor. This included Fit Flop, Broga, Bodyism etc

By coming up with strategic creative ideas that were then implemented in all clinics and promoted within key regional media ie launching a Galentines Day event - a celebration of female empowerment over Valentines, an opportunity to celebrate the sisterhood and for girls to get together and treat themselves in Margaret Dabbs London clinics nationwide.
Results
Ten years since initial launch, being instrumental in elevating Margaret Dabbs London to the Global Health and Beauty Brand it is today. Elevating Foot Expert Margaret Dabbs profile from an unknown podiatrist to 'The Queen of Feet', the go-to person for key media looking for a foot care expert, commenting on foot care issues.

Seeing a spike in sales following two appearances on ITV's This Morning. The first with Margaret Dabbs filmed live on air as a foot expert in Summer 2018, giving a mini medi pedi treatment, with a focus on how to get ones feet summer sandal ready. The second with product placement of Margaret Dabbs London's hero foot care products in Summer 2019, with Sarah Jossel, Sunday Times Beauty Director describing the Margaret Dabbs London Foot Hygiene Cream as ' This is the foot cream to use if you are prone to any sort of infection, in growing toe nails, when you get out of the shower, take that balm and really massage it around the toes because it's got anti-bacterial, anti-fungal, and it has tea tree in it. Margaret Dabbs in general is the Queen of Feet'. ITV This Morning Presenter Ruth Langsford also went on to describe Margaret Dabbs London's Professional Foot File as: 'Now Margaret Dabbs, I think that her foot file is the best one I have ever had. Margaret Dabbs the Queen of feet, she really is'

Extended features and product placement within key UK national, regional and lifestyle media. A few key highlights included two full pages in the Daily Mail, extended features in The Times, The Telegraph, YOU magazine, S magazine, ES magazine, The Evening Standard etc.

Being pivotal in increase brand social engagement, traffic to the Margaret Dabbs London website, driving product sales and clinic treatment bookings through securing glowing treatment and product reviews within celebrities and beauty influencers social channels, to include: Giovanna Fletcher, Caroline Hirons, Fleur de Force, Fashion for Lunch, Really Ree etc